Scottsdale is a luxurious Arizona city with quality amenities like high-end resorts, 400+ miles of hiking trails throughout the lush Sonoran Desert, and chef-driven restaurants presenting inventive and original menus. Whether interested in the height of fine dining or a meal beside breathtaking mountain views,
Scottdale
has it all. When looking for the best seafood restaurants in Scottsdale, check out one of the six spots below from a local expert.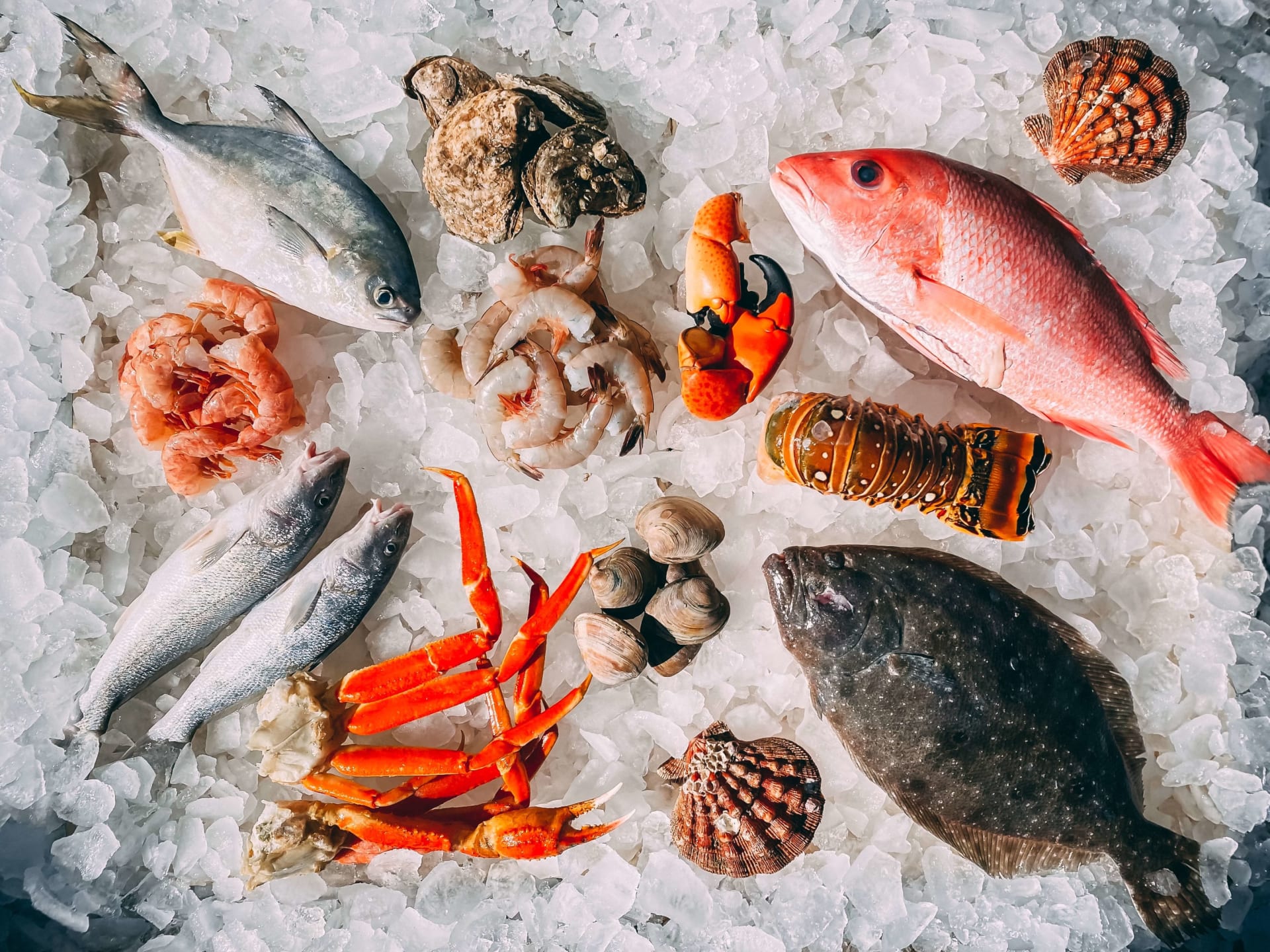 Ocean 44
4748 North Goldwater Boulevard, Scottsdale, AZ
One of the best seafood restaurants in Scottsdale is
Ocean 44
. This upscale restaurant offers a chef-sourced menu using the highest quality, sustainable, and fresh seafood. A fine dining atmosphere is cultivated throughout all its settings, from grand seating with a seaside feel to more intimate nooks. Designed by Testani Design Troupe, this restaurant's airy and fashionable aesthetic is punctuated by exciting additions like the glass expo kitchen.
Dinner guests can start their visit by exploring the extensive wine list offering varieties by the glass and bottle. Their raw bar features items like the Maine lobster cocktail in a house-made sauce and creamy mustard. Shellfish lovers can select wood-roasted options like the Prince Edward Island mussels in a chardonnay and goat cheese crème fraiche. Diners can also choose one of the many cuts of fresh fish and seafood, including the Chilean sea bass and jumbo Alaskan king crab legs.
Rockefeller
8260 North Hayden Road Suite A-100, Scottsdale, AZ
Located in McCormick Ranch,
Rockefeller
is a locally owned and approachable luxe restaurant with an inventive seafood-centric menu. Open all days of the week from 4 p.m. to 9 p.m., this spot offers fresh chef-sourced seafood. Guests who walk through its plaster arch will find a classy yet relaxed interior through the large glass front doors. 1922 meets the future with this venue's low-lit interior, sleek bar seats, and lush golden booths. Peak a view at the golden cage above the bar that displays their wine and spirits collection.
Guests can visit any time on Mondays (or 4 p.m. to 6 p.m. on Tuesdays through Sundays) for a stellar happy hour with oysters on the half-shell, classic cocktails, international wines, and quality brews. The streamlined dinner menu presents a range of oysters and caviar for guests alongside numerous small plates. Try the crab cake in a bold chipotle aioli or the mussels with a chorizo kick. The main entrees include the salmon beurre blanc with a side of lobster mashed potatoes.
Eddie V's Prime Seafood
15323 North Scottsdale Road, Scottsdale, AZ
The high-end restaurant
Eddie V's Prime Seafood
serves not only some of the best seafood in Scottsdale but in all of Arizona. This fine dining restaurant offers a lively V Lounge outfitted with a stage for live entertainment, several private dining rooms for important gatherings, and a large main dining room lined with shelves showcasing its impressive wine selection. Guests can sit at their rounded hardwood bar or reserve a white cloth table for an elegant date night.
Start dinner with a wide variety of East Coast and West Coast oysters, or opt for appetizers like the ahi tuna tartare served with fresh mango and avocado. Main entrees include quality seafood dishes like the South African lobster tails, their tender broiled meat paired with drawn butter. The jumbo gulf shrimp is another decadent option, their insides stuffed with crab and seasoned with herbs and garlic. Enhance a meal by ordering additions like the three Georges bank scallops with sweet brown butter.
Lure Fish House
8877 North Scottsdale Road, Scottsdale, AZ
Open all days of the week,
Lure Fish House
is a family-owned restaurant specializing in a seasonally-focused menu providing guests with a range of classic seafood dishes. Entrees are made with locally caught and environmentally friendly fish, while the equally impressive full bar prepares specialty cocktails mixed with freshly squeezed juices. Visit for lunch or dinner to enjoy a high-end meal in an upscale coastal atmosphere.
The lunch menu offers a range of chilled specialties like the Dungeness crab cocktail served with taro chips. Lunch goers can also opt for savory starters like the miso glazed sea bass skewer. Signature entrees include the trout almondine, its parmesan almond crust a perfect crunchy complement to the tender fish. Dinner guests can try the lobster ravioli with a decorative squid-ink striped design. This restaurant also has several market side dishes like the parmesan potato cake and the pineapple coleslaw.
Chart House
7255 McCormick Parkway, Scottsdale, AZ
Located on the expansive 4,200-acre McCormick Ranch,
Chart House
was voted among the top ten seafood restaurants in the Scottsdale and Phoenix area. Guests can admire views of Camelback Mountain and nearby Camelback Lake while enjoying highly acclaimed entrees. The chic interior offers seating next to oversized windows, a classic dining room atmosphere with impressive wooden accents, and elegant bar seats with more casual tabletop seating for after-work conversation.
Stop by for their happy hour to try small plates like the lobster tartare with fried capers alongside an array of wines, premium spirits, and fruity cocktails. Dinner guests can share appetizers like the kimchi calamari and the lightly fried squid served alongside crisp vegetables. Then try vintage Chart House meals like the mac nut mahi. This dish is served with peanut sauce and mango relish glaze. Those craving a taste of the land and sea can also select from various quality cuts.
Nelson's Meat + Fish
14224 N Scottsdale Rd Suite 175, Scottsdale, AZ 85254
The original location of
Nelson's Meat + Fish
in northeast Phoenix did so well that the market will soon open a second storefront in North Scottsdale. If you've been to Nelson's, the simplicity of its second setup may give you deja vu: a walk-up counter, identical menu, and no restaurant seating. Like the first Nelson's, the new Nelson's will partner with a nearby bar (
TVG Tap Room & Bottle Shop
) to rev up business and increase overall satisfaction. Regulars will become familiar with weekly specials like Wednesday lobster rolls and Friday clam chowder. Fresh seafood is the game Nelson's plays, and they play it well.
Seafood at it's Finest
There's plenty to enjoy when searching for seafood spots in Scottsdale. This upscale city doesn't disappoint with fine dining destinations like Ocean 44 and Chart House. Other local restaurants like Rockefeller are just as impressive with inventive, seafood-centric menus.
Searching for homes in the area can be challenging without the help of a local agent. If you want to learn more about Scottsdale's seafood scene or are ready to start a home search, contact local agent
Johnathon De Young
for expert help.